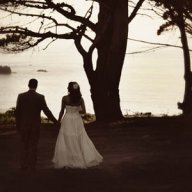 Joined

Jul 24, 2007
Messages

435
I haven''t posted around here since April, but have been sitting on the pics from my wedding. I wasn''t sure if I was going to post or not due to the whole showing my face thing, but, why the heck not.
We had the most amazing day, the weather was perfect (just over 70 degrees, the higest the area has seen in a long time) and there were even whales spouting off the coast before I walked down the aisle!
Of course a few things went wrong, but nothing drastic happened.
Ok, so, maybe we didn''t get our wedding cake due to a minor fender bender during delivery, but I swear it didn''t phase me at all! I had my Aunts make my favorite desserts that my Mom used to make, for our dessert bar and the wedding cake was small and really just because I figured we should have one. So, if that had to happen to someone, I''m glad it was us and not anyone else!
so, here we go...