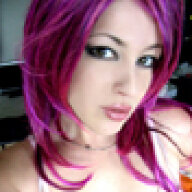 Joined

Oct 17, 2006
Messages

200
(I may have put this in the wrong section....if I did, I'm sorry!)
Hey everyone!
It's been a while since I've been here....I've been trying to catch up on all the posts, which is almost impossible!
We're free enough to start talking about wedding plans again (although we REALLY are looking into eloping now at this point!), and the subject of wedding bands has come up once again. Everything else came so easy, the E-Ring, the dress, EVERYTHING....so this is rather frustrating!
I am a huge fan of matching wedding bands. Bryan would like it too, but is not so nuts over it like I am. There is a band that goes with the tension ring I have
Click here to see the E-Ring
. It kind of wraps around it, but probably would not look so amazing if worn alone, which is important to me. Also, my E-Ring is a bit big on my left hand, but on my right, it's PERFECT so it would work out to have the band on the left and the E-ring on the right. And the E-ring looks awesome alone anyway, so why mess with a good thing?
Which leads to the decisions. Bryan is picky, worse than me probably. He's gone through at least 6000 ring designs online. He doesn't like anything blingy....he wouldn't even stand for a diamond on his until I found a gorgeous band with baguette stones on it....and to my surprise, he liked it! It would be so easy to match my own wedding band to this one, I could even customize something for me. So this is exciting. However, his hands are kinda 'rough around the edges'....he works with his hands. So I'm not sure if it would suit....here it is:
Click here!
The second choise is this one. I have no idea how I'd match my own band to this one, but I'm sure I could figure something out. I found this one online and he loved it, especially the darker metal in the middle. However, I want us to both have platinum bands (it's the only thing I'm persistant with, and so far I've convinced him! lol!), so perhaps the contrast of the dark and light could not be replicated with platinum like it can with this titanium design, unless it was shiney polish and matte in the middle....
Click here!
The third option is super geeky, and is something we both like the idea of. LOTR matching bands. We'd get our own wording on it, and I could have the stones on mine and his plain. Both in platium too. Or maybe this designer could do the vertical baguettes on it like the first one I posted, with the wording between. That could be an option!
Here is the design we like, just not the yellow gold on it. We like the whole shiney edges and matte middle thing....
Click here!
My dilemma is, I just love the baguette one. It's so classy and elegant yet 'masculine'. The fact that he even likes it is amazing....because of the diamonds in it. I could match something great to it, but there's the problem of it not suiting his hands....or maybe it would? No way to tell, as I have no idea where we would find this to 'try'. It looks so great plain like that with the stones....but I do want to make it into 'our own' design, but I fear anything engraved would mess it up!
I thought I'd ask all of you your opinions on these three rings. I'm not going to let opinions sway me, but maybe you guys will think of/ point out something that I haven't come up with yet. It's always good to get opinions to help weigh the pros and cons of stuff!
Thank you all in advance. I'm off to catch up more on what I have missed in the last while on Pricescope!