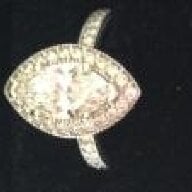 Joined

Jan 5, 2009
Messages

1,204
Just have a question...
I know traditionally the wedding band is supposed to go on the upper part of the finger, with the e-ring worn below...however, does anyone wear theirs the opposite way? I got a very thin curved milgrain white gold band to fit against my LOGR split shank e-ring, but I like how it looks when I wear it ''under'' the ring, as opposed to above it. Does anyone else wear theirs that way? I don''t have any pics, our camera broke

...but was just curious if anyone else likes how their w/e rings look ''backwards'' too.