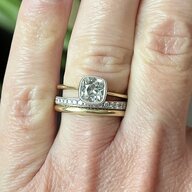 Joined

Aug 8, 2019
Messages

65
Hi all. I'm super excited to share details about my project with DK and I've love your advice. I'm pretty sure I know what I want, but would love expert opinions in case I'm missing something important.
Background: I'm resetting my wedding and engagement ring. The original set was a .5 carat diamond set in a channel set cathedral setting with engraving, and the matching wedding band. The new engagement ring will be a three-stone bezel set, .25/.5/.25 with DK sourcing the side stones and reusing my original center stone. I've also asked him to recycle the melee diamonds into an eternity wedding band, and add engraving on the eternity band with a similar wheat pattern.
Here are some inspiration photos that I sourced from these forums and Pinterest. I'm pretty sure that partgypsy and I used one of the same inspiration pics of an antique ring, thought that wasn't obvious to me until I saw the CADs. The gallery wires have a "chain" detail that I couldn't really see well until the crisp CAD rendering. I paused when I saw that and debated a simpler design, but I think it's cool. ? Because partgypsy and I also happen to have the same size stones, the top view of the ring will look similar to hers, although I think I've requested several changes that are very different (to me). I hope that's ok, though it's hard to know how my perceptions line up with others. Please flog me in the comments if I've made a misstep.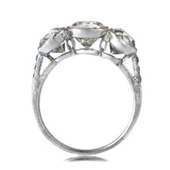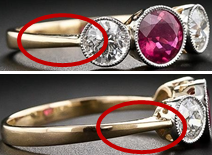 I've asked for milgrain detail around the bezels, as well as a shank with squared off edges, as I know I'll be pairing this with a band that will be squared off as well.
Although I LOVE the look of intricate galleries on bezel rings, it creates this negative space under the stone that will trap water against my skin and I just....can't do it. I've had rings that have had this type of negative space under the stone in the past and gotten rashes. Hence, I was looking for a compromise between the more enclosed bezel and the very modern open gallery. This ring was saved as an inspiration for a long time but I keep staring at the underside and shuddering: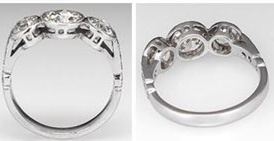 Here's the final CAD of the engagement ring: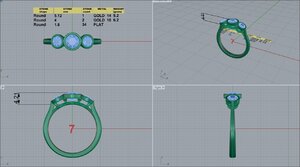 There are a lot of images in this post so going to start my questions in a second...