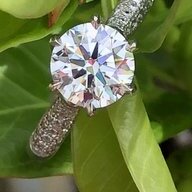 Joined

Dec 25, 2018
Messages

107
I got engaged last March. See post here
https://www.pricescope.com/community/threads/1-51-g-s1-aca-engagement-ring.247472/
we were supposed to get married this coming Saturday. Due to Covid, in May we decided to postpone to next year. Then with everything going on, we decided to just have a private ceremony this Friday. I ordered a thin platinum band to be used as a spacer til the actually wedding next year. Well hurricane Laura destroyed our town and our wedding plans. So now we're cancelling next years plan and getting married as soon as we can. Which brings me to my question. For my wedding band we originally picked
https://www.whiteflash.com/wedding-rings/benchmark-shared-prong-diamond-wedding-ring-5104.htm
or
This elegant "Diamonds for an Eternity" ½ Diamond Wedding Ring is the perfect match to our <a href=" https://www.
whiteflash
.com/engagement-rings/diamond-settings | 1384
since we're not having a wedding and because 2020 has been a "crazy" year, we've decided to splurge a little more on my band. the dilemma is, I will wear this band with my ering always except for rare occasions where then I will only wear the band.
I was thinking of moving tcw up to .75 or 1 carat. I want it to be able to be seen when worn alone but not overpower my ering when worn together. I've also decided to go with HP diamonds on my band. i love my ering. Nothing wrong with
Whiteflash
.
what size do you think is just right vs. too big.