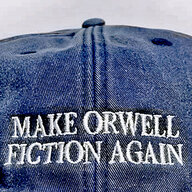 Joined

Apr 30, 2005
Messages

30,343
Have you noticed that DF and I (residents of opposites sides of the aisle BTW) often spar, but neither gets all bent out of shape?

Others here seem hyper sensitive and just jonesing for a fight.
Talking to them is like walking on eggshells.
Wouldn't it be nice if we could just be ourselves and talk to everyone in the same way?
But we can't.
When talking to person A I can say X, Y or Z ... actually anything from A through Z.
But in the same context and thread I could NEVER say X, Y or Z to person B.
I have to be careful to only say L and Q, and I have to also include a D and J to prevent WWIII.