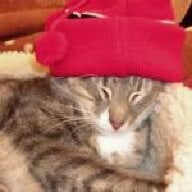 Joined

Aug 14, 2009
Messages

19,817
Meet Alex!!
We have no idea what he is. They think he's just shy of five months, and he's a completely adorable bundle of energy
We've been talking about getting a fourth cat but we'd been holding off.
I was visiting a friend in NYC last Saturday and DH called me to say that he was at Petsmart and they were having a sale on litter, and that they had some cats in from a local shelter and the littlest one was a total cuddlebug
I said that's nice, and to take some photos, and to absolutely not come home with a cat because we're not fully settled in yet, our cats are still adjusting to having moved across the country, we might never see our ex-stray Mina again, and that I wanted an older cat anyway, when we were ready...
He said that he'd promised the volunteers that he'd bring me in tomorrow so we should at least go meet him.
We brought him home Sunday afternoon
I was right about Mina, she wants nothing to do with him! She adjusted okay to living with Gretta and Garett though and they all cuddle together so we think she'll be okay with a bit more time. Garett's coming 'round - they chase foil balls together, though he has no patience for the little guy playing catch with his tail (you'd think at 4lbs he'd have the sense not to antagonize the 15pounder - apparently not!

). Yesterday Gretta curled up with him and groomed him to sleep



I was really worried that our three would change personalities but so far they seem just fine with *us*, and alone with each other, so I think we're okay on that front!
.
.
.
.
.
.
.
.
.