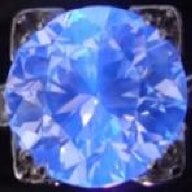 Joined

Apr 26, 2007
Messages

8,087
The quest for a watch for a baby gift continues, and I think I've found a serious contender: the Cartier Roadster W62048V3. It's a limited edition (apparently - anybody know a good resource for researching watches?), it's an automatic, it's got a nifty brilliant blue face.
What I'm wondering is:
a) Whadda y'all think, does it look good on me? Coupled with, will I like this more than a ladies watch or a more conventional bracelet or suchlike - I really love the idea of getting something to mark kiddo's birth that I can pass on to him eventually, but finding the right men's watch that looks good on my wrist is proving to be surprisingly challenging.
and, a subsidiary question ...
b) how much is a reliable vendor worth to you? The place I found the watch at has been around forever. I actually got my ears pierced there when I was 9. I think of them as being reputable and trustworthy ... but they've got the watch listed as having a "retail value" of 10K, with them selling it second-hand for 6.5K. But, of course, the second I got home I started researching, and found this:
http://www.frameoftime.com/Items/cartier-roadster-mens-w62048v3?sck=10506877&caSKU=cartier-roadster-mens-w62048v3&caTitle=Cartier%20Men%27s%20Roadster%20Limited%20Edition%20Blue%20Dial%20Stainless%20Steel%20Watch%20W62048V3...
. So I'm both suddenly doubting them a little (unless the info on the random website is wrong - is there a way to find this out? does Cartier have price lists for their limited edition pieces? some random watch aficionado site?), and wondering, on the off chance something goes wrong in the two years its under warranty, is it worth 1.5K to to me to buy from somebody close to home? I mean, that's a nice chunk of change ....
So, let's see if I can do a two-part poll!