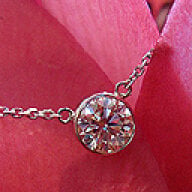 Joined

Oct 30, 2002
Messages

31,003
I mentioned reading this article a few days ago and a forum member was kind enough to find it online for me in the archives, and send it to me via email! Here is the copy of the article for those who are interested.
Catalog Critic: Taking the Plunge, Online
Web Offers Deals on Diamonds, But Are the Rocks Any Good? Opps! A $2,500 Overcharge
By Lauren Lipton; Special to The Wall Street Journal
15 December 2000
The Wall Street Journal

"Buying a diamond engagement ring may well be the most intimidating, emotionally fraught, high-stakes consumer experience there is. Want to give your nerves an even bigger workout? Try forking over thousands of dollars to a vendor you've never met, for a diamond you've never seen.

That's what we did. In a daring move, we maxed out the Catalog Critic credit card to the tune of $30,000 on five engagement rings we found on the Internet. Sure, it sounds risky, but a number of increasingly vocal online gem vendors insist that buying diamonds online is not only safe and simple, but shrewd. Their lower overhead, they contend, means more rock for the buck -- plus, you often don't have to pay sales tax. Online diamond sales may represent a sliver of the $50 billion annual world-wide diamond industry, but these sites say they're getting lots of hits and buyers -- particularly now, in December, the biggest month for sales of diamond rings.

But can you really get a top-quality diamond -- at a great price, and without hassles -- online? To find out, we went shopping for the ultimate holiday surprise. Budgeting $5,000 to $6,000 for each ring, we headed to Diamond.com, Mondera, Fortunoff, Ashford.com and Blue Nile in search of a plain setting with the best one-carat stone we could find.

We were surprised, all right: One rock had a flaw troubling enough to put its clarity grade in dispute. Another arrived so dirty it needed a professional scrubbing. Worse, though, after taking this same ring for an independent review, we discovered we had paid nearly twice as much as it was worth. And then there was the $6,000 ring we couldn't return. (Psst: Anybody want to buy a rock?)

You can head off many unpleasant surprises, of course, by knowing exactly what you're buying. Remember the "Four Cs": cut, color, clarity and carat. Then, once the ring arrives, have an independent expert look it over. Every diamond should come with a grading certificate from an accredited gemological laboratory; the jewelers we talked to agree that the Gemological Institute of America, an independent, nonprofit organization, is the most trustworthy. Think of that certificate as a road map to your rock. A good jeweler can look at the certificate, inspect the diamond and verify that you got the stone you paid for. Since an expert will be taking a look at your purchase, don't bother with gift-wrapping. (You're not missing much: We had our boxes gift-wrapped and were generally unimpressed.)

But we're getting ahead of ourselves, and our shopping.

With the exception of venerable New York company Fortunoff, the sites we visited had a "build-your-own-ring" feature that lets shoppers sift through a list of stones with the qualities they want, pick one, then add a setting. We used this feature on three of our orders, and chose preset rings at Fortunoff and Blue Nile. At check-out time, the expected anti-fraud controls kicked in: We were called -- and called again -- to verify our billing details. The sites all offered free, insured rush shipping. It was all pretty straightforward.

But it wasn't always fun. Some sites were slow. One was torture. Just sorting through the preset rings at Fortunoff took forever. Once we found a diamond we could afford, we wanted to put it in our online shopping cart but couldn't. Irritated after six tries, we finally phoned in our order. Later, we spoke with Esther Fortunoff, the company's executive vice president of jewelry merchandising. She explained that the company didn't actually sell diamond rings online, preferring that shoppers close the deal by phone with a real person. The theory: Some things should be purchased only under the care of a trained professional. But our conversation struck a nerve; the next day, Fortunoff revamped its Web site to allow online purchases of engagement rings.

Maybe it's just as well, because dealing with a real person at Fortunoff didn't save us from spending too much. We'd been surprised that we could only afford a solitaire that was less than three quarters of a carat. So imagine our shock when we took it to a jeweler we trust, Peter A. DeNatale in Manhattan. After cleaning the ring -- "it's so dirty!" he gasped -- he told us what he felt we should have paid for this stone in a competitive market. His guess: $2,750 to $3,000 -- roughly $2,500 less than we had paid. We called Fortunoff for comment, and the company did some research and discovered that someone had put the wrong price on our ring -- plus two others on the site. "We made a mistake. I feel terrible," Ms. Fortunoff said.

That wasn't the only problem Mr. DeNatale uncovered. When he put the Ashford.com ring under his microscope, he found a flaw called an "open wound" on top. You can't see it with the naked eye, but under magnification, it looks like there are bulldozer tracks across one of the facets. Mr. DeNatale said it could possibly get worse over time.

The diamond had been given a relatively good clarity grade of VS2 by the GIA, which had noted the flaw. But the wound was so troublesome to Mr. DeNatale that he thought the diamond should have gotten a lower mark. He postulated that either the GIA made a mistake, or that the flaw had worsened after the diamond was graded, perhaps as it was being set into the ring.

Ashford.com CEO Kenny Kurtzman says there is no way of knowing what happened, and the GIA concurred. His recommendation? Return the ring. "We would take it back in a heartbeat," he said, "and send you another one immediately."

Two of the other three rocks met with some disapproval. Mr. DeNatale wouldn't comment on Blue Nile's diamond, the only one of the five that didn't have a GIA certificate. Instead, it had been graded by the International Gemmological Institute, whose lab he and other jewelers we spoke to believe is more generous in its grading. Carl Gandia of Greenwich Jewelers in Manhattan said the IGI might rate a diamond a grade higher on color and clarity than the GIA would. (The IGI disagrees, saying its diamond graders are trained by, and use the same standards as the GIA. And the IGI and jewelers point out that diamond grading is subjective.)

The Mondera.com diamond didn't go over too well, either: The "table" -- the flat top facet -- was small, an aspect of cut that experts say can affect a diamond's sparkle. To be fair, the company clearly listed the diamond's table size, so we knew what it was when we bought it. Had we been shopping with an expert, though, we would have passed on this one.

That left the rock from Diamond.com. Surprise! Mr. DeNatale approved, even estimating its value at $400 more than we'd paid. We liked the ring and were all set to declare it "Best Overall." Then, return-policy disaster struck.

It turns out that though the other sites have 30-day return policies -- and this site also allows for 30 days for some purchases -- this ring only had a 10-day return window. Too bad we didn't get around to reading the fine print until after that window had slammed shut. Still, when we called to arrange to send the ring back (You didn't think we got to keep them, did you?), it had only been a little more than 10 days. What company would really give us a hard time about this?

This one did. Our customer-service representative twice refused to take the diamond back -- even after we begged. It was only when we finally revealed ourselves as a newspaper reporter doing a story that she reconsidered. The company president, whom we called later for comment, insisted that "I am sure [the returns department] would make an exception to the rule and take the ring back, and not because you're from The Wall Street Journal."

That brings us to the biggest lesson we learned from our online diamond spree: Make sure you know your site's return policy, and for heaven's sake, follow it to the letter. That will leave you just one last thing to stress about: What if she says no?


---
Diamond.com
Diamond $5,924.16,
platinum-setting upgrade, $237;
Total: $6,161.16
888-342-6663
Vital Stats -- One-carat, with a VS2 clarity grade (very small flaws). Its color grade of G is at the top end of the near-colorless range. We were pleased with it -- even if the ring was a size bigger than we ordered.
Shipping Cost/Time -- Ground shipping in five to six business days is free. Our order took seven business days.
Return Policy -- Within 10 days in original condition and packaging, with security tag and receipt. Call first for authorization. Customer pays return shipping unless item is defective or order is wrong.
Phone/Web Experience -- The site has great bells and whistles. As you build your ring, it shows up step-by-step in a box on the screen.
Comments -- We would have named this best overall, except we're really upset about the return policy. Sales tax alert: This
Florida-based company must charge sales tax to customers in that state.
-----------
Mondera
Diamond, $5,070;
platinum setting, $400,
Total: $5,470
800-666-3372
Vital Stats -- This one-carat diamond has an excellent clarity rating of IF, or internally flawless. The tradeoff: Its color rating of I is still in the near-colorless range, but in the bottom half.
Shipping Cost/Time -- UPS Next Day Air shipping is free. We were notified that our ring, ordered on a Monday, would ship in three to six business days; it came Friday.
Return Policy -- Return within 30 days for exchange, credit or refund. Customer pays return shipping unless item is defective or order is wrong.
Phone/Web Experience -- When we tried to pay, the site wouldn't process our order. Arrgh! We finally phoned it in. (It turns out our different billing and shipping addresses had raised a red flag.)
Comments -- This New York-based company must charge sales tax on any purchase shipped within the state. Our Manhattan address set us back an extra $450.
-----------
Fortunoff
Classic Diamond Ring,
Platinum, $5,350*
800-367-8866
*mispriced, see below.
Vital Stats -- This preset, 0.71-carat stone had a clarity grade of SI1 (one notch below VS2: flaws are noticeable under a loupe). Color grade: G. The ring was a half size too big and needed cleaning.
Shipping Cost/Time -- Ground shipping in three to five business days is free. We ordered on a Tuesday; our ring arrived Friday.
Return Policy -- Within 30 days, in original condition and packaging. Customer pays shipping unless company made a mistake. Had we kept our ring, the company says it would have refunded the amount we overpaid.
Phone/Web Experience -- We had to phone the company to buy our engagement ring (our phone saleswoman was efficient and pleasant). Now, shoppers can buy rings online as well.
Comments -- New York and New Jersey residents must pay sales tax, adding $441 to our bill.
-----------
Ashford.com
Diamond, $5,810;
14-carat gold setting, free;
Total: $5,810
888-922-9039
Vital Stats -- This one-carat, G-color diamond came with a GIA clarity grade of VS2. Our jeweler was surprised that its "open wound" hadn't earned it a lesser rating. (CEO says the company would take it back "in a heartbeat.")
Shipping Cost/Time -- Overnight delivery is free. Orders placed by 5 p.m. CST are guaranteed to arrive by the next day if the item is in stock. Ours wasn't in stock and took two days.
Return Policy -- Within 30 days, in new and unused condition, with original documentation and packaging. Call first for authorization. "On an item like this, we would pay return shipping," says company CEO.
Phone/Web Experience -- Our computer crashed just after we had chosen a stone; when we got back online, we had to search 65 pages of diamonds to find it again. (We should have tried an advanced search, says the company.)
Comments -- Enough, already. Since ordering this ring, we have been inundated with promotional e-mails asking us to buy more. Sales tax: in Texas.
-----------
Blue Nile
18K Gold Diamond Solitaire Cathedral Ring, $6,100
800-242-2728
Vital Stats -- The one-carat diamond in this preset ring was certified VS2-G from International Gemmological Institute -- not the GIA.
Shipping Cost/Time -- FedEx Priority Overnight Shipping is free; orders take one to three business days. Our order was on time.
Return Policy -- Within 30 days, in original condition and packaging. Call first for authorization. Company pays return shipping if it made a mistake.
Phone/Web Experience -- Ordering online went very fast, possibly because we chose a preset ring instead of building our own.
Comments -- The company says it does have other, GIA-certified stones. Sales tax in Washington State.
---
The Second Opinion
Online diamond sellers say their prices are more competitive than those of traditional jewelers. To put those claims to the test, we had Peter DeNatale, a Manhattan jeweler, take a look at the diamonds in their settings and tell us what he thought we should have paid for the stones. Here's his assessment:
Store -- Diamond.com
What we paid -- $5,924.16*
Jeweler's bottom line -- $6,000 to $6,300
Comments -- Our jeweler had nothing bad to say about it. He thought it was a good deal.
Store -- Mondera
What we paid -- $5,070*
Jeweler's bottom line -- $5,400 to $5,700
Comments -- Our jeweler took points off for the small top facet. He also asked why we'd picked an internally flawless stone with a not-so-spectacular color grade.
Store -- Fortunoff
What we paid -- $5,350**
Jeweler's bottom line -- $2,750 to $3,000
Comments -- A company representative says the item mistakenly carried the wrong price. She sells similar rings for between $3,150 and $3,450.
Store -- Ashford.com
What we paid -- $5,810*
Jeweler's bottom line -- N/A
Comments -- Based on the paperwork, he said $6,000 to $6,300. But once he saw the extent of the flaw, he felt the stone would need to be recut, reducing its value.
Store -- Blue Nile
What we paid -- $6,100**
Jeweler's bottom line -- N/A
Comments -- This stone wasn't certified by GIA, but by a different rating body. Without a GIA evaluation, our jeweler declined to review it.
*Price for diamond only; some settings cost extra.
**Price for diamond and setting."
Copyright (c) 2000, Dow Jones & Company, Inc.