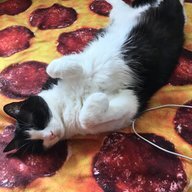 Joined

Jul 31, 2019
Messages

23
A couple of weeks ago I reached out to Inken looking for a replacement sapphire for my ring since I wasn't having much luck finding one in the size I needed (6.2mm round). I totally understand now why the standard advice is to buy a stone first and find a setting second since it's so limiting to have to fit specific dimensions, but unfortunately that doesn't work for replacements!
Although it's smaller than what Inken typically works with, she agreed to take this on. She checked with a supplier and found this lovely sapphire - her pic first, mine second. I really like how straight-up Inken's "glam shots" are... what I saw in her pictures was very true-to-life with what I saw in person.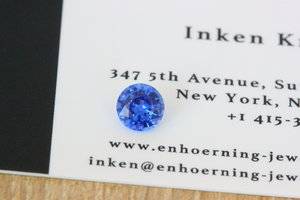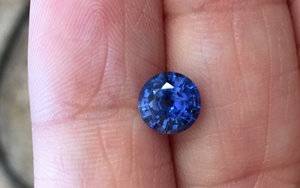 It was a new arrival so it doesn't have a cert yet, so we agreed that I would review the stone in person and if I liked it, I would send it back for a cert, and my purchase is contingent on it being certified unheated/untreated. So that's where I'm at now - she received it yesterday and is bringing it to AGL, which I think has a several-week wait time.
So as I'm waiting out the clock, here are a few more pics & some video!
Direct sunlight - this glows nearly electric blue. The color in the pic is close but doesn't fully do it justice since cameras have a tendency to make the brightest spots white and adjust the rest from there. It flashes a very bright light blue in the sun, not white like the camera makes it.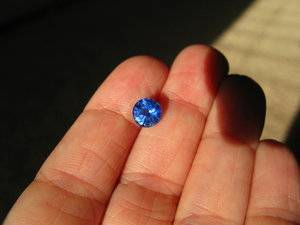 I'd asked Inken for something a bit sleepy (my personal preference) with enough silk to help hold color in all lighting. Here's her pic in diffuse light - I really like that glow!
And here's a video of mine in similar conditions. My home office has a large window that faces east and a small one facing south, so in late afternoon it's very shaded and diffuse. Here's how it looks in that lighting, compared with the sapphire in the ring I'm going to replace - it's a very saturated teal which blacks out in a lot of lighting (which is why I want to replace it).
Indirect sunlight - by and large this is about as dark as it gets (and still a very pretty blue!)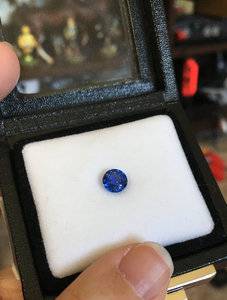 Even in really terrible lighting, it still throws off blue! This is in a dark room where the only light source is a computer monitor.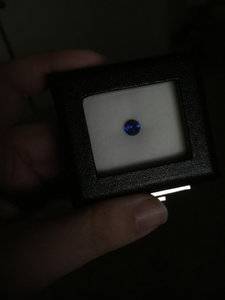 And one more video, this is in my living room which has LEDs with a sort of reddish tone - great for sparkle, terrible for color. You can see that the original sapphire is nearly black with only a few minor teal flashes, but the new one holds color extremely well.
Fingers crossed that AGL certifies it unheated/untreated - if they do, we'll try again with another stone, but I was really happy with the color performance across all kinds of lighting with this one!