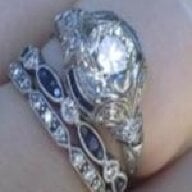 Joined

Aug 25, 2009
Messages

7,863
About 2 months ago I was washing dishes with my rings on and I made the really bad mistake of hitting my left hand on the side of the sink.
I knew right then and there that I must have chipped a diamond in my set. I have prong set diamonds on my ering and wband and they are not sutured because I like to switch them out sometimes. Anyhow I debated what to do with my w-band because I did chip 3 out of the 5 diamonds. After seeing Frenchgirl's thread on a diamond bracelet she was making I was inspired to contact
BGD
and get a DBTY bracelet made (I already have a DBTY necklace that I bought from a fellow PS'er BEG- THANK YOU AGAIN!).
I contacted Leslie and she was great to work with. She was so helpful and understanding. I wanted her to take my w- band setting and melt it down to make a comfort fit band for me to wear as well. She explained that they would be happy to, however the setting would be melted down in a vat of other gold so it they made me a new one it would not be from the same metal as my wedding band, which obviously has a lot of sentimental value attached to it- so I did not go ahead with that project but I really appreciate how honest Leslie was about it.
BGD
DBTY braclet in 18k white gold with .40 ctw (my 5th diamond was so badly cracked that they couldn't even try to remove it from the setting without further damage so my .50 ctw braclet turned into .40 ctw instead
)
I will take wrist shots and a whole set shot when it arrives! Thank you!