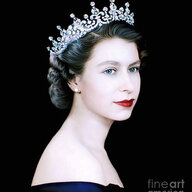 Joined

Oct 24, 2012
Messages

4,736
Some of you will remember I have had issues with hair loss in the past. It has recovered, but I started loosing again a couple of months ago, as in, not handfuls of long curls, but teeny new re-growth hairs between a few mm & 2cm in length, washing down the drain like fuzz. I have also been extremely tired & weary, physically & mentally, snappy with my beautiful girls & achy, which I presumed was due to being on the go constantly.

I saw my Dr & she ordered a MASSIVE batch of blood work, as both of my sisters have underactive thyroid & I am also prone to anaemia due to my Von Willebrands & subsequent monthly blood loss (not to mention the massive random nose bleeds like the one I had yesterday!)

Every thing was perfect. Everything that has a range for the results were smack bang in the middle, low cholesterol, perfect renal results. But in the middle of the lab report in red highlight, was my Vitamin D result. It is basically so low, I'm no longer storing it. This is weird to me given how much I am outside & that I run for around an hour on 3 mornings a week to boot, but it seems as we age we can sometimes loose the ability to process & store certain vitamins? Who knew?!!

When she brought up an initial list of 8 side effects of the loss of Vit D, top of the list were tiredness & physical lethargy, anxiety, hair loss, muscle aches & general pains.

Who knew that such a teeny thing, that I always assumed only lead to rickets in childhood if it lacked, could cause so many things in an adult body??! And that at any time, your body can say nope, fed up or storing & processing that one now....

So i am on a 2 month heavy medical dose, at which point I will move to a milder, daily vitamin pill. She assures me my hormones are all normal, I am not peri-menopausal, which I assumed I must be considering I'm 44 in six months, and that my hair loss has no indicators other than the Vit D. Seems like this has been caught just in time, as it can lead to calcium issues & bone problems if prolonged.

Fingers crossed in a few months I am a new woman!!

Please share your stories of vitamin deficiencies if you have any, for others to read & gain information from.