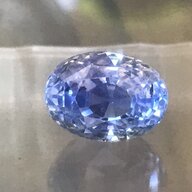 Joined

Jul 14, 2020
Messages

85
Hi there,

I have some across my mothers old moonstone necklace.
I remember that the large middle stone that came out was around somewhere.
To be honest when I was young I couldn't see what she saw in it and just kept it because it reminded of her. All I know is it's old, super delicate and has no markings.
Do you think this is worth finding the missing moonstone and repairing it ? Or am I better just to scrap the necklace and try to seek off the moonstones?
I tried very hard to get photos - not easy! I will try in the daylight tomorrow. All the stones have a blue sheen - some more then others and a couple are completely clear.

If you had these what would you do with them?

She had little grape drop earrings too she wore to match but I don't think they are old or high quality and (frustratingly enough) no markings either.
The biggest ones are 9x6 to give you an idea of size. The middle one would have been 15x10.
Just thinking it's a waste sitting away in a box unloved.