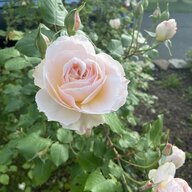 Joined

Feb 7, 2015
Messages

21
Hello all,
I have a beautiful vintage diamond bracelet that was a gift from my grandmother (I am guessing 1945-1950 is when she received it). It has individual links that were purchased sequentially I believe for the births of her children. The bracelet needs two more (or 3 more) links to complete the circle, and is currently attached with a snake chain and clasp. The clasp says 1/20 GF but there are no other markings on the links themselves.
I have done lots of Internet footwork to try and determine maker and would like to find additional links to compete the bracelet, which may be a tall order. Around that time period, Jabel made similar linked bracelets but I couldn't find the same one. All of theirs also have GF clasps, which I can only assume is because they were maybe meant to be temporary as the rest of the bracelets were 18k.
The bracelet is heavy and the diamonds are beautiful; the smaller ones look like single cuts to me (I don't know about the larger ones.) I know this particular item was pricey when it was purchased; I don't know much else about it.
If anyone has information about possible makers or can confirm time frame, or anything else helpful, I would greatly appreciate it!