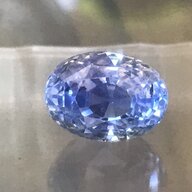 Joined

Jul 14, 2020
Messages

170
I have some vintage costume jewellery earrings that have sentimental value to me (I wore them to my formal with one of my great aunts ball gowns).
As much as I close my eyes and wish they aren't turning into the real thing on their own.
So I'm hoping someone here can give me an idea of what it would ost to have these remade in the real deal. Would need to be white gold (allergies) and created sapphires (or very cheap Australian or Thai ones as the budget would be *as low as possible*).
Any idea what I would be looking at?
Any help is appreciated as always.
(just in case your interested for reference - no marks on the earnings - 1920's-1940's somewhere around there, good quality paste).
I have always liked how the design flows from the ears and moves with you.
would be happy to change the shape at the bottom to drops or pears which would probably be easier to source.
I'm in Sydney Australia For any jeweller referals if that helps.