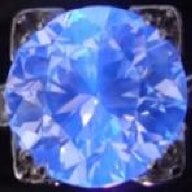 Joined

Apr 26, 2007
Messages

8,087
When I got engaged, I knew that I'd never want to upgrade ... but I never said anything about not adorning the other 9 fingers! In point of fact, I kidded about it from the get-go: my husband was my best friend before we were ever together in a romantic fashion, and he
knew
what he was getting in for.
This year we're celebrating our fifth year of being together, fourth year of being married: we're expecting our first child; and, well, there's just an awful lot to celebrate. So I got an awful lot of ring.

Back in the summer, we started talking a little more seriously about the possibility of buying a Big Deal Ring to mark the occasion: as y'all will recall, this is right around the time prices started to go up ... and
up
... and UP. I was seriously starting to get a little worried about getting priced out of the market! I mean - I love my original e-ring: it's a one and a half carat J VS1, and it measures at 7.4 mm. I loved the color and clarity, but I wanted to go up in size enough for it to be at least vaguely noticable ... and that was starting to seem unlikely.
Except
... after months of combing the various vintage sites, I remembered this ring I'd seen in the window of my favorite dealer every day on my way to work. I used to stop and say hello to it, coming and going. I'd tried it on once, back before the concept was a twinkle in my husband's eye ... and it occurred to me to check and see if the stone was still available.
Bingo
! And just to make me even happier, the dealer honored his original quote from back when I'd first tried it on, leaving me with enough to consider the custom setting of my dreams.

So, without further ado ....