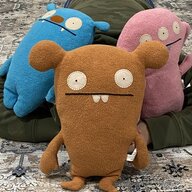 Joined

Oct 24, 2012
Messages

10,027
Guess where these bands came from...
I can't tell you how much I love the full eternity. Victor is such a saint for being willing convert my Jocelyn setting to this lovely. Single cut melee, bright cut setting, size 4.5. It is just perfect. The single cuts are so bright, but not big enough to take away from my ering. I am amazed at the workmanship. I love how tightly the stones are set. If there are any prongs anywhere, I can't see them. The sides and metal are perfectly smooth and glides on my finger like a glove. And remember, this was originally the Jocelyn where the prongs protruded directly from the side walls. He was an angel to fit this project into the Christmas rush. I would have been thrilled to receive this any time in 2016. But he was able to get it done in time for me to wrap it back up
and put it under the tree.
The other is a matching plain band with millgrain at the edges. So smooth and fine. They are just perfect, and the height and width match perfectly as well. Completely satisfies my OCD-ness. I have to say Bright Ice's new antique emerald with the bands inspired me to go with the plain band with the millgrain edges. I loved how her two worked together. I am amazed at how pleasing to the eye this set is. I even love it with my ering. LOVE. Makes me have to rethink my whole resetting ideas all over again...
Working with Victor was the easiest, most simple thing, and as always, so professional and courteous. When I looked at Bright Ice's plain band I couldn't really make out the side engraving, or what it was. I just liked it. I showed Victor the picture. He got the idea and told me what he thought would look good. Well, if Victor thinks it looks good, it's good enough for me. I'm so excited because now I have the option of either or both. I'm honestly loving both right now. We'll see in a week, when I actually have it on my hand.
So here go the pics. You all know I go crazy with them because I want to see it from all angles. Do you mind letting me know what you like best, with both, or with just the eternity, or just the millgrain band?