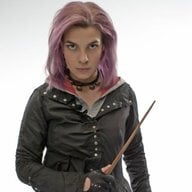 Joined

Dec 27, 2017
Messages

570
I am so excited to show y'all my new alternating French cut band by
@Victor Canera
It is one of a set of three we ordered for a stack. All three are here, but my husband decided to give me one band for my birthday and the other two will be for Christmas. He wrapped the other two bands before I had a chance to snap photos! Probably smart, as he would have had to pry them away from me. Don't worry, I will do another SMTB with the full stack after Christmas.
Working with Victor was a dream. It was so, so easy. Victor is personable and easy to talk to. I arranged a phone call where we took care of the details, and from there, it was less than a month (in the middle of a pandemic!) to delivery of all three bands.
They are all absolutely perfect. This French cut band is stunning. The diamonds are so incredibly sparkly, even in dim light. In sunlight they are positively blinding. The metalwork is smooth as silk. I requested super fine milgrain, and it is indeed super fine. It looks more pronounced in photos but in real life it simply lends a bit of a defining edge.
Oh, and as to sizing! This was so important to me. My wedding set is a 6.5. It fits fine, *but* in the mornings and in the summer I swell badly, and it is uncomfortable and I can't get the rings on until after 10 am. So we decided on a quarter size up to give some breathing room. And Victor nailed the sizing. Using a Kate Wolf True Size mandrel to check, the ring is precisely a 6.75. This was so critical to me because I have had a vendor get a size wrong in the past. Anyway, the quarter size increase turned out to be perfect to allow for morning swelling. I wore my ring first thing this morning.
As to width, I'm not actually sure how wide this band is. I told Victor we could go up to 2.5 mm but left the actual measurements up to his discretion. I can't measure at the moment b/c I left my calipers on and the specialty battery they take is dead. Oops.
I cannot recommend Victor highly enough, and I am already planning future
Canera
pieces.