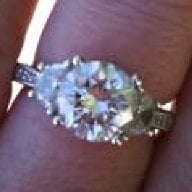 Joined

Jun 18, 2010
Messages

5,765
As I've posted before, we are doing a cruise wedding. My future in-laws don't travel, nor do they have the money to travel, so we are paying for their entire trip. If we didn't, they wouldn't be able to go.

Well, to go on a cruise you need a passport or birth certificate. My F-MIL doesn't have either. I've been working on getting her a birth certificate. We all live in Nevada and she was born in Pennsylvania. Several problems here. They don't have internet. They don't have credit cards. They don't even have a freakin' bank account. How that's possible? No idea. But apparently it is. The problem is to get a birth certificate the billing address has to match the shipping address which has to match the ID address. They moved about a year ago, so the ID address doesn't match the shipping address. Vitalcheck told me to fax in a bill in her name that has her current address. The only thing that is in her name is DirecTV, and that doesn't work apparently. And we still have that little problem of the credit card address, since I was using my card, so obviously the billing address won't match the shipping/ID address.

Okay, fine...immediate relatives can also order them, so I started doing a new order in my fiance's name. The problem? His mailing/billing address is a PO Box. And to ship to a PO Box they have to send the certificate via regular mail, and for some reason the PROCESSING of the order takes 20 business days when you do it that way, but somehow only 10 business days when you pay $18 freakin extra to have it shipped UPS. But UPS doesn't ship to PO Boxes.

So I think my solution is to have my fiance change his bank address temporarily to where we live. Of course, then his ID address won't match his billing/mailing address. And no utilities are in his name. So I'll have to make up a fake lease (which is acceptable) to have something so that his ID can be linked to his billing/mailing address.

Vent over.