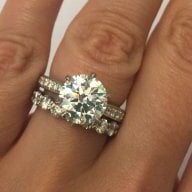 Joined

Apr 28, 2014
Messages

3,887
I'm so excited to present my first VCA piece! I've been coveting the vintage alhambra necklace for a while and went into VCA back in October for the first time. I knew I wanted to try the MOP and onyx since they are classic but I absolutely love red and had to try on the carnelian. Well of course, that was the one I fell in love with! The MOP and onyx didn't really do it for me on my neck. I went home and showed DH and he also thought the carnelian looked best and was surprised by how regal it looked (I had shown him the website pics before and he wasn't very impressed  

)
Well a couple of weeks ago we had plans to go into the city with family to see the tree and DH surprised me with going to VCA first!!  

We had an absolutely amazing SA who was very nice and patient...I know there are color variations of their stones and I was very specific and wanted a stone that was more red - not too brown/dark, not too peach/light. She ended up bringing out all of the carnelian pendants they had in store and I had pick of the litter! She and DH must've thought I was nuts at first but both acknowledged the differences in color I kept showing them (or maybe they were just yessing me to death  

) But she also made a good point that I think will be helpful to others...the carnelian is actually transparent so a big part of how it looks while worn will depend on your skin tone. One of the first ones I picked was a burgundy red and looked nice on the tray but once on it was way too dark.
Onto the pics and hope everyone had a lovely holiday!