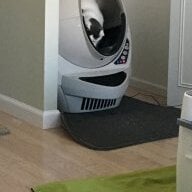 Joined

Jul 27, 2011
Messages

6,583
2016 isn't over yet, sooo.... I managed to squeeze in another purchase

. I've been eyeing the Van Cleef & Arpel Byzantine Alhambra pendant for a while now.
http://www.vancleefarpels.com/us/en/collections/jewelry/alhambra/byzantine-alhambra/vcard38900-byzantine-alhambra-pendant.html?mid=793f1p4799&mkwid=sB8IGyhRv_dc&pcrid=103231425759&kword=&match=&plid=&gclid=CLL84KDP5dACFciPswodXi0FWQ
Sunday night, I decided to give VCA a call to confirm what I had read on the purse forum - that extensions/alterations on the chain are gratis at purchase, but if you go back after time passes, you have to PAY for the extension. I spoke with a rep, who brought to my attention that this necklace is limited in quantity. I already knew that the VCA in Manhattan didn't have this necklace (ac117 asked to see it when she visited the store, and they didn't have any). The rep also confirmed that the other VCA close to me also did not have this necklace in stock. Then she said "limited quantities", "2 week wait minimum", "holidays" and I ended up making an emotional purchase.

The website indicated a chain length of 16.55", and I thought to myself, wow, I'll buy the necklace, put it on, and... drop dead from being choked to death (death by VCA). I waffled back and forth about having VCA extend the chain. IF I went this route, this is the process with the e-boutique: VCA sends you the necklace so that you can TRY it first and confirm that you DO in fact want to alter the chain length. Then you can either send it back by mail, or you can bring it to your local boutique, and they will then ship it to the workshop, which is apparently by the flagship NYC store or something like that.
I ultimately decided not to extend the necklace - I want to keep it standard length so that if i ever opt to sell it preloved, it's "standard" length, and instead contacted Wink's elf to create a 2" chain extension for me. Now this is where it gets interesting. I call VCA and get the same rep again a few days later, and she refuses to tell me the width of the chain. Wink's elf calls and they give her the info - they state 0.75-0.8mm, probably because it's a "bench" calling, we surmise. BTW - this is my first time working with Winfields, and Wink's Elf is AWESOME - quick, responsive, ABSOLUTELY wonderful customer service. I am so happy to have yet another reputable PS vendor to refer to others based on MY experience dealing with them. What you will see, though, once I post pics, is that each link may be 0.75-0.8, but the way they chain together, the necklace as a whole is over 1mm for sure. AND, I feel like someone is having a good laugh at my expense, because the type of chain is called "forcat". Like, REALLY, the cat obsessed lady ends up with a forCAT chain?!?!?! What the

So, I'm anticipating that this necklace is going to show up at the end of December, and I really want the extension chain in hand before my birthday (early January), so I go ahead and order it from Wink's elf. Guess what just happened an hour ago? Doorbell rings and a man hands me a BIG WHITE box that's on the HEAVY SIDE! WHAT?!?!?!