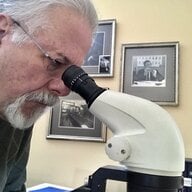 Joined

Sep 3, 2000
Messages

6,475
There was a recent topic, which I felt compelled to enter, with some numerical and parametric advice in terms of assisting a consumer in selecting what is a top-quality fancy shape diamond. Of course, I was countered by those who readily advise that you can't choose a diamond by numbers. This is not totally false, but it is only partially true. Diamonds of the highest quality are distinctly "the best" when their light behavior/light return is near maximized but only when COMBINED with parameters indicating the best craftsmanship and make possible.

Light behavior can be viewed and subjectively quantified by I-S or ASET scopes. It can be factually measured, to varying degree of correctness, by digital tools produced by Sarin, Ogi, Imagem, DiamCalc Gemex. It is reliably predicted and graded by the AGS cut system and to a slightly lesser, or more liberal, extent by the GIA cut system.

Parameters and numbers used to screen diamonds for elements of their craftsmanship may not always be used for the above grading of light behavior. These facts may be considered in some systems, but used more for light predictive purposes than for arriving at a grade for the craftsmanship quality of a cut. If you buy a diamond solely based on light behavior grading, you may someday find that while it is a very pretty diamond that does have excellent light return, it may have some problem with elements of its design and fashioning that were never mentioned as being less than "the best". Over thin, overly thick girdles, too large or too small table, overly deep or overly shallow total depth, or an unusually short or long length to width ratio, overly bulging or shallow curvatures, or atypical asymmetry may exist that does not adversely affect light behavior but still would encourage most every dealer to criticize the diamond's cut if you wished to sell the stone back into the trade someday. Such defects in cutting can alter the value of a diamond and cause one to seemingly be a better value than another of equal grading when the diamonds are not, in fact, equal in total quality.

Garry's Holloway's HCA gives consumers a numerical grade predictive of light return for just round diamonds. It is based on the input of a few parameters of cut. The AGA Cut Class tool give a craftsmanship grade and allows consumers to know the weakest and best elements of many shapes of diamonds. It is not predictive of appearance, other than for round diamonds, but eliminates virtually all shape diamonds with cut problems that might otherwise be overlooked. Diamonds that score very well with AGA Cut Class that also have great light behavior grades are going to be those everyone, dealers and consumers, should say are "the best".

Part of the reason consumers seek out "the best" cut is to make it difficult to get burnt in a purchase. The dealer nearly always knows more than the consumer. Round and princess cut diamonds have become far less blind a purchase, but the purchase of most fancy shapes is still not a transparent process. With the exception of most Pricescope vendors, most diamond dealers prefer to keep as much of the facts under wraps to the greatest extent possible. We can sympathize and understand their plight. However, transparency is the path we are on here, and have been on, for quite a long time now.

My advice is to select diamonds which are graded nearly the same and adjust for their weight, color, and clarity differences. Then, examine their images, such as ASET and I-S. Then run their numbers with AGA or HCA and look at any nuance differences which show up on the parametric level. These might or might not make a visual difference, but they might be major part of the cause that the asking prices are not equivalent. That is what screening is valuable for. You can choose what you wish, but you ought to understand what you are buying today rather than find out years from now.

An important reminder: Parametric suggestions for diamond screening do not apply to natural fancy color diamonds in the way logic might dictate. Natural fancy colors, even the most common varieties, are relatively rare and their face-up appearance trumps many other considerations of cut craftsmanship and light behavior measurement. Their unique or odd shaping may contribute to substantially more visible color and increase their value. The rarer or more intense the color, the less parametric numbers seem to correspond to pricing. Color rules in these situations.
Near colorless diamonds are the main order of business for most of Pricescope's consumers and they are the folks being addressed by this topic.