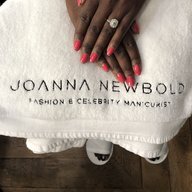 Joined

Oct 3, 2018
Messages

95
My fiance and I are looking for a ring with antique diamonds to use when we create my engagement ring.
**This is a long post, but I thought to give as much info as possible to aid any guidance given to us!**
We would love some guidance to help us decide between the two rings at we are looking at - are the diamonds of an acceptable specification, and are worth spending his money on as we have a limited budget
I've got medium sized hands, and the dainty diamonds we can afford look too small scale on my hands. So we are looking into the sizable antique rings.
We have a limited budget because:
we are having a destination wedding (we're getting married in Jamaica November 2019)


I'm allergic to 18C gold, and can only have platinum, which will cost £1000 to reset any ring we find.
We're looking at antique diamonds for ethical reasons, and because I am drawn to the idea of having unique hand cut diamonds. Err, and because I like bigger stones (!) than we can afford in virgin diamonds!
So our budget is a total of £3,500 (£2500 for the diamonds, £1000 for the setting)
SO, ONTO THE RINGS

RING 1: Ive attached images
https://www.pauljamesjewellers.com/product/diamond-crossover-cluster-ring
Spec: Diamond Cluster Ring OEC cut, 18c gold, Spec: 1.97 Total weight. Price £2600.00
1. I fell in love with this 50's looking style ring, and its chunky round OEC's, and love the setting shape too (photos attached)
2. We had planned to have this setting made in platinum (with some refining of the prongs, and the setting's weight )
3. I am concerned about the value of these stones because though they face up white, the colour is M and I don't know if this diminishes the value.
4. Under a loop, they looked pretty clean, but the diamonds looked a bit dark when I looked at in shaded daylight, and when I held it up in the sunlight against a modern round cut diamond. Which made me a bit sad…
5. I found with the OEC diamonds, in normal indoor lighting, and outdoor shade the OEC ring lost its
scintillation
. It appeared a bit dark in comparison. But is that possibly because they're OEC diamonds?
6. We've negotiated the jeweller down to £2600, from £2950 for the ring
AFTER 15 HOURS OF RESEARCHING ONLINE I CAME ACROSS RING 2:
RING 2:
https://www.acsilver.co.uk/shop/pc/1-75-ct-Diamond-and-18-ct-White-Gold-Cluster-Ring-Vintage-Circa-1950-309p7484.htm
Spec: Vintage 1.75-carat multi-diamond ring in 18-carat white gold.
Cut: Transitional, modern brilliant round
Esiimated weight of diamonds; Feature 0.65ct, supporting; 4 x 0.10ct and 10 x 0.07ct
Colour (average grades) G/H Clarity (average grades) SI2/P1
Content (total) 1.75 carats
Price £2650.00 (before negotiation)
**The plan now is to buy this ring, and rebuild the engagement ring in a Platinum copy of Ring 1, but need some advice on selecting the correct ring for its diamonds!
1. In the photos and video of the ring 2 (see the link), OMG, the stones look so so white and very sparkly compared to the OEC.
Q: Is this just how OEC's are? Online, I have seen brighter ones, but they looked pumped up with artificial lighting!
2. I was veering towards this ring and even though the diamonds are smaller, for its brighter stones, because of their brightness of a G colour stones.
Q: Do you think this is a good compromise
3. The spec above looks like they may be inclusions. To see them, I will have to buy the ring online to inspect it.
4. Jeweller for Ring 2 says the cut is: Transitional, modern brilliant round.
Q: Is there such a thing? I think he means 'Transitional brilliant round' but will ask him about this.
Q. Do you think that these transitional-cut diamond may produce some of the subtle brilliance if I'm after when in normal indoor lighting?
Q: So with all this in mind, do you think paying £2,600 for Ring 2's diamonds is a better investment than buying Ring 1 as £2600 for its diamonds?
We are open to any advice, please! Thank in advance for being so awesome!!