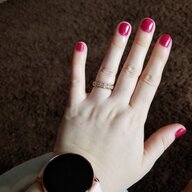 Joined

Aug 7, 2020
Messages

30
Hi all, totally brand new to the forum. This could be a bit lengthy so I'll do a TL;DR and a full version.

TL;DR: I want to upgrade diamond size definitely. I also need a larger size ring for it to fit comfortably (but hope my original size will fit in the next 6 months). Would you stick with your original setting, same diamond shape, and resize your ring? Or get a new/similar setting as well?

Long version: I'm currently not wearing my e-ring and wedding band and haven't since I was pregnant with my 2 year old because of weight gain. I have a beautiful stand in that I'll end up wearing as a RHR. I'm trying to lose weight healthily, but realize it could still be a while before my rings fit again. My H has agreed to upgrading my diamond for my birthday/anniversary next month. Yay! We have since moved far away from the store we bought my rings from (Mervis Diamond Importers), but they have a great trade up policy. 100% of what we paid for my original diamond can be put toward a lab grown or natural diamond. Additionally, my setting is made by Tacori who also has an upgrade policy, allowing you to put forward 70% of what you originally paid to a new setting.

So my current ring is a 0.81 ct RB solitaire. I'd like to consider a cushion cut beside round diamonds, and I think my ideal size is 1.2-1.5 cts. I plan on going to a jewelry store to try on the larger size diamond, as well as different shapes.

Well, I've started talking about a new setting and MH is getting a little bent out of shape. He's suggesting sticking with the same shape and resizing my ring up to fit now, and back down whenever that may be. My ring has been resized once when we first got engaged and that's it - but I don't like the idea of resizing it twice within a couple years.

I'll eventually post some links to diamonds I'd like to consider. But I'm just looking for some advice re: switching settings or not to protect the integrity of the setting.

Switch to a new setting in the right size? Allows me to pick a different shape?

Resize current setting with larger RB?

Sorry for the novel, TIA!