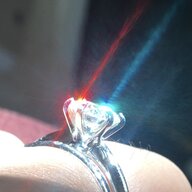 Joined

Dec 15, 2019
Messages

51
Hello amazing PS community - just wanted to share some pictures of my beautiful 1.62 CBI 'J' stone that has been re-set in a custom platinum HPD NYCS (New York Classic Setting).
I decided to pair my solitaire with a WF Platinum Benchmark Spaced Eternity Diamond Wedding Ring set with approximately .10ctw diamonds (this was custom made as this style of ring is offered in YG & WG but I wanted to get it in PT).
I know its been a challenging time around the world at the moment and I do hope no one thinks its in bad taste to share my rings here - I really just wanted to share in the same spirit of everyone who generously shares their stories, experiences & pictures - I know that I love being able to come to PS as a retreat from the everyday stresses of life (more so now than ever).
Here are some lovely shots taken by the very sweet & talented Alicia at HPD. As with my prior experience dealing with everyone at HPD - they are truly amazing and deserving of all the accolades showered on them.
Special thanks to
@LaylaR
and
@Wink
and their entire team who go above and beyond in their customer service.
It would be remiss of me to fail to mention the amazing service I also got from WF - in particular Liza - just THE nicest and most down-to-earth person as well as a wonderful and knowledgable associate at WF. My interactions with other staff at WF
@Vera W
- also exemplary! Thank you WF!!
I just received my package from HPD today and I am waiting a little while after spraying the box to get my rings out. In the mean time - here are the lovely shots taken by the lovely Alicia at HPD.
Thanks for letting me share.