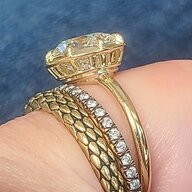 Joined

Apr 20, 2017
Messages

2,337
Here is my new upgrade stone! It is absolutely stunning! I am so smitten. 3.122, J, VS2 ACA.
I decided that DSS had truly sunk in and that I could totally rock a 3ct. I also knew that this time I was getting an ACA! !!! No more questioning my stone, no more crazies. I wanted the best cut possible. After a talk with DH about a Porsche Boxter (GIA xxx) vs. A Porsche 911 (AGS Ideal) vs. A Porsche 911 Turbo (ACA), he looked at me and said with disbelief, "you are wearing a Boxter?" Lol, I had finally gotten through to him because he hates Boxters! Yay!
I have the luxury of living about 10-15 minutes from whiteflash and I love going there. Michelle, Vera, Becca and all the ladies are so awesome, no pressure, non-intimidating, easy going. I may be biased but the Texan sure shows through at whiteflash - superb service, just a great place!
I knew that I wanted a 3 ct. ACA. I just had to be sure that a J was ok with me in that large of a stone. My guess is that more people would buy Js if they could see them in person. It's as white as the I that I traded in!!!! Not to mention DH really doesn't get the I being so much more than a J. I'm working on him, lol!
I had this beauty set in a Whiteflash stock 6 prong so it only took a few days from purchase to hand! I plan to set her in a permanent setting by CVB. Caysie is working on it already.
So here are a few pics!
**edited, please attach photos without logos per policy**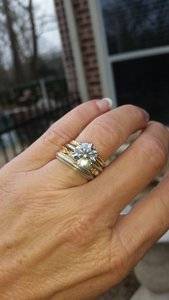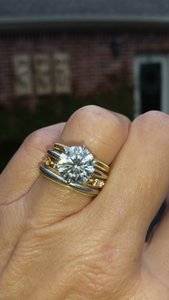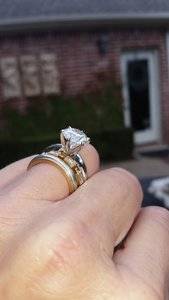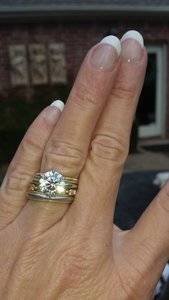 Last edited by a moderator: