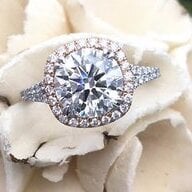 Joined

Dec 8, 2016
Messages

457
Hi everyone. It's Gypsy.
I changed my account over to trade. I am doing social media promotion for
High Performance Diamonds
(Wink and
Crafted by Infinity
) part time for now mostly posting on FB and Instagram. It's a lovey opportunity and I am grateful to have been trusted with it by John, Paul and Wink.
I am going to be posting very little from now on and I do miss you all. I am feeling out the whole Trade thing and that's going to take me a while to adjust and separate. But I did want to post an update on me, and on Harry. And to thank you all.
So things are about the same except for the switch to trade. Waiting for 2016 to be over and hoping that the promise of a good 2017 is fulfilled. I am still looking for full time work and trying to figure out next steps.
You all really rallied around me, and I can't thank you enough. I really can't. The support from all of you is overwhelming. You provided me with a lot of things but most of all hope. My cup was dry and I was at my wits end when I posted to you all. And you helped refill my cup enough that I was able to THINK for the first time I months and to prioritize my needs. My brain was a cluttered mess stuck in gear with stress and anxiety and I couldn't think my way out of the box I was trapped in. You all gave me so much love that I was able to figure out what is most important to me: my friends, my husband, my cats, and my desire to explore entering the trade. And you helped me pay my health insurance and medical bills enough that we our heads are above water for now. There are actually too many of you too thank individually because it's not about money, and most of you were anonymous in your assistance there, but also about your words and your stories and just the way that you all gave me whatever you could and wrapped your arms around me and held me up when I was falling. Please know that your actions meant the world to me.
As to Harry. He's coming along nicely, thanks to you all as well. He had no familiarity with being indoors. Furniture was new to him. The ice maker sent him into his 'safe place' for two days. But he's slowly getting used to it all. SLOWLY he's very cautious and wary. And he has tape worms (medicine is coming tomorrow). I am kicking myself for not thinking of that-- when they have fleas tape worms are inevitable. Still and all I was surprised by it.
Big news yesterday was that HE PLAYED with me! He's started nipping and nibbling now that he is feeling safe. So when he starts to do that I try to redirect it to toys and till now he's been confused by it, but he figured it out yesterday! Big step. I am hoping he learns to like playing.
He has a ton of nicknames now. I call him "Harry Chicken Butt" or just "Chicken Butt." And "Sunshine". And "Silly Kid". And a host of other names. His fur is slowly coming in on his rear but he's still mostly bald and his tail has healed enough that I can touch it without any issue. His eye is much better and the infection has been stopped and it shouldn't get any worse. When he gets happy his little nub of tail sticks up. It's very cute.
He's still got a little ways to go but I think he'll be ready for a permanent home in a few weeks. He's not fully integrated with my kids. He stays (by his choice) in my master (Lucy is very unhappy with this) and looks out the window, sleeps on the bed, and generally enjoys having quiet space. But he does choose to come out and be with the other kids every other day or so. They've mostly started to ignore him so that's good. I keep hoping that he'll start making a friend but that hasn't happened yet but he likes being around the other cats, it makes him happy. He's just not sure how to make friends. I think he needs a quiet home with one or two other friendly cats as companions.
Here are a few pictures of him I took for you all. Enjoy!! I'll post another update of him in a few weeks so you guys can hear how he's doing.
Much love to you all.
Best,
Gypsy
(I don't know why the pictures are posting all upside down and sideways. I tried to fix it, but failed).