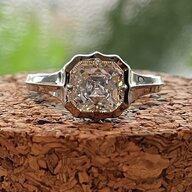 Joined

Mar 2, 2013
Messages

6,224
This handsome little 'fella' (I think it's a male; haven't been able to inspect too closely yet) caused quite a raucous at my house this morning, in that he was chilling on my front porch, and my dogs were eager to meet a new furry friend!
He has no collar, and I know he doesn't belong to any of my neighbors, so I took some food & water out to him to keep him close while I posted his picture on our local 'Lost & Found Pets' FB page, the NextDoor app for my neighborhood, etc. He is so friendly, loveable, cuddly, etc., so I brought him inside to my spare bathroom to keep him safe and warm (but segregated from my pets) in the mean time.
I also called Animal Control because they do come out and scan for a chip if they are available/not busy. The AC gentleman was just here, and the cat DOES have a chip (and I learned his name is 'Hocus Pocus'). AC guy tried calling the registered owner's tel #; however, it appears the owner hasn't updated their information with the chip company as the number was no good. He also drove to the last known/provided address and left a note on the door, but that address is in 'transient' housing (e.g. condos/apartments) and a good mile or so away from my home, so that's not looking super promising.
In the mean time, I'm calling the local veterinary clinics to see if they have him in their systems to contact the owner that way, perhaps. And I will check Craigslist to see if there is anything posted there, and perhaps try flyers if I don't hear back from anyone or find anything. I did not and will not surrender him to Animal Control, as I'd rather keep him safe for the time being while we continue to work to find his owner. He is an absolute sweetheart of a cat, super lovey-dovey, and is well-groomed for being a long-haired cat, so I have to think he belongs to & is loved by someone vs. being a stray because if he was a stray, I imagine he'd be matted and a bit 'grungy' as a long-hair.
So, aside from having an opportunity to share this handsome fella's picture with fellow furbaby lovers, let this be a PSA that - if you have a pet who is microchipped -
please
be sure to keep your contact info current with the chip company if you happen to move, change your telephone number, etc. I can see it being an easy thing to forget, but can make the difference in reuniting you with your furbaby as quickly as possible.