Hi everyone.
My fiance got my engagement ring from brilliant earth and we are having issues with getting the setting/prongs symmetrical.
I am not in the US so it took us more than a month to send it back, have them work on it and send it back.
It looks similar to before, possibly slightly worse or just the same. Hard to tell because obviously prongs are set in by hand and won't all be the same shape. But either way, the spacing drives me nuts and causes me anxiety as I have symmetry OCD. I don't mean I'm "ocd about it", I mean I'm diagnosed with that so this is causing me intense stress.
I have read old posts of people having similar issues and everyone says nope! It should be completely aligned. But mine's pear and not round. They were all round. But BE told us that it's due to the cut of my diamond not being perfect and that is causing the issue and that it cannot be anymore aligned. They did re set it though, as the prongs are now a bit shorter like balls whereas they were a bit more like lines that stuck out further before. They also straightened some prong stems. But I still do not like the way it looks and feel very upset to look at it. It always had larger prongs at top and bottom, I assume that's for security but the alignment of the smaller prongs on the sides is what drives me most crazy.
My fiance learned loads about diamonds and this diamond alone is 7k even though it's just under a carat. He chose one with high quality with all that colour clarity etc stuff. The cut was listed as Very Good on BE I think, so not considered perfect but that would have added thousands more and he read lots of info over 6+ months to make his choice.
I love the way it's so dainty and a unique shape. My crappy photos dont show how it sparkles at all and it's got fluff stuck in it. In real life, it looks amazing. But I still hate the prongs. BE blames it on my diamond. Is that true? Sorry its sideways but I have no space on my phone to edit it. Should we send it back yet again and demand it to be reset in a whole new setting instead of just having that setting messed with, or take it somewhere here? I'm VERY anxious about it looking worse, having bulkier prongs or anything else being altered...
Thanks!
P.S. He also asked them to send a couple of quick photos and they assured him that they could and that someone could call him to clarify things but neither happened, they just did a bit to it and send it back. My fiance stressed the issue of asymmetry though. Also they forgot to send the promotional ear rings and GIA report which took months. We are over them and it's made our engagement stressful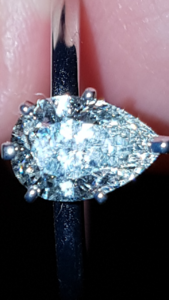 Last edited: