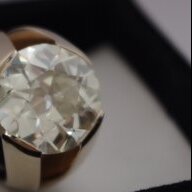 Joined

Aug 28, 2016
Messages

13
If am a total newbie in the world of diamonds and OEC's (in which I am interested) and I would like to understand better the differences in the different cuts, and possibly how the cut affects their appearance.
My curiosity derives from the concrete case of my wife's rings and earrings;
First ring (The big):
Certified by a local unknown lab
Measurements mm: 15,93 - 16,00 x h 7,86
Weight: 12,54ct.
Clarity grade: SI 1
Color grade: L
UV fluorescence: Medium
Proportions: fair
Table: 49,4%
Crown height 13,2%
Pavilion depth: 35%
Total depth: 49,2%
Simmetry: Fair
Polish: fair
Second Ring (the beautiful)
Certified by a local unknown lab (not the same lab of the previous one)
Measurements mm: 10,32-10,51 x 6,73
Weight: 4,55ct.
Clarity grade: VS 2
Color grade: Q-R
UV fluorescence: Weak
Grille: bruted
Culet: Large
Simmetry: Good
Polish: fair
Proportions are not certified but total depth should be (according to measurements) around 64%
Earrings are not certified but the jeweller who made the setting for both rings told be the weight should be around 4,5ct and the color an R.
The 4,55ct ring seems to be, compared to the 12,55ct one, much more "alive" with more personality and a nicer light.
Is this due to the cut?
Moreover, in the "little" i can recognise a geometry (quite a floral pattern" while the big one seems to have just random facets and no recognisable pattern....
Am I looking at them in the wrong way? what should I look at?
Thanks a lot for your help!
Here some pictures (already posted in a previous thread I did open regarding the 12,55ct ring) and some new pictures I took with a macro lent (x10)