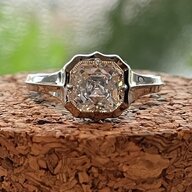 Joined

Mar 2, 2013
Messages

5,667
Anyone else frustrated by door-to-door salespeople who ignore clearly-posted no-soliciting signs? What do you do/how do you handle when the interruptions are frequent and 'significant', such as interrupting your work, waking sleeping children/family members, etc.? I'm close to my wits end and going postal on the next salesperson who walks up our driveway to ring my doorbell and try to sell us pest control/financial planning/religion/politics/book club/cookies/gutter cleaning/etc. services.

We have a 'no soliciting' sign posted clearly at the entry to our neighborhood, yet every week it seems people just don't give a damn about respecting the wishes of the homeowners and blow right on past it in a hurry to make some quota. If these people wouldn't go door-to-door at shopping malls, church pews & business complexes hocking whatever they sell, why do they think it's okay to do it at people's homes ... especially in this day/age when so many are vigilant about who is in their 'hood, watch programs, etc.? We have a lot of professionals who work from home (myself included) and in the medical field who work varying shifts which is why the HOA posted the sign in the first place ... to minimize 'traffic', uninvited disturbances, etc.
I actually had some jackass tell me two weeks ago (when I first tried to politely advise him there's no soliciting in our 'hood) that if I "don't want my doorbell rang, I should post a sign in my yard." Uhhh, how about you get off my lawn before you're wearing a sign!

I called that dude's company and reported him, though I doubt it'll do much. And being nice doesn't stop them from going to the next house anyway, as that jackass was told the same by my neighbor before he rang my doorbell.
We aren't
supposed
to have any signs in our yards except 'for sale'/real estate signage, but I won't lose sleep over pissing off the HOA since their efforts aren't proving helpful and I need the interruptions to stop, so I may get a 'tasteful' sign for the yard right at the driveway anyway. I'm also considering using my cell phone to video them going forward and/or taking their picture to report them to someone, but who? The HOA isn't likely to sue the company sending them out, the companies sending people out probably don't care/won't do anything, and it's rarely the same company/person coming around.
What do you suggest/do?