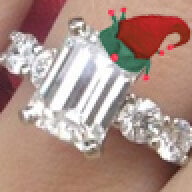 Joined

May 2, 2008
Messages

4,125
I have always been thin with pretty flat abs (had a six-pack going for a long time from gymnastics--not so much these days). Lately, I get this awful lower abdomen bloat. I start out looking relatively normal in the morning, but as soon as I eat anything or even drink a glass or two of water, I start inflating. By the end of the day, I look just-barely-pregnant and feel icky and too full. It is very uncomfortable, and it makes me self-conscious.

I have talked with doctors about it, and no one seems to be able to help me or really care about the issue. My gynecologist had me have an ultrasound to rule out ovarian cancer (don''t have it, thank goodness!). My GI specialist tested me for celiac disease, found that I didn''t have it, and gave me some bacteria packets to try to get my intestines on track, but it hasn''t done anything for me.

With my wedding coming up in just over two months, I want to be as bloat-free as possible, even if I don''t find a long-term solution. I would love to hear your input on what could maybe help--please share any experience you''ve had with this issue. Your help and suggestions would be greatly appreciated!