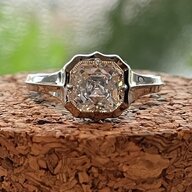 Joined

Mar 2, 2013
Messages

5,640
I have both of these on hold with JA. I would appreciate thoughts on both from those with an eye for step cuts. I like both for slightly different reasons.
1.6 ct J:
https://www.jamesallen.com/loose-diamonds/asscher-cut/1.60-carat-j-color-vs2-clarity-sku-6217467
1.61 ct I:
https://www.jamesallen.com/loose-diamonds/asscher-cut/1.61-carat-i-color-vs1-clarity-sku-4335960
For ease of comparison, here are the still images with their corresponding ASETs below each, though I think the videos are better to assess the faceting in movement vs. the stills.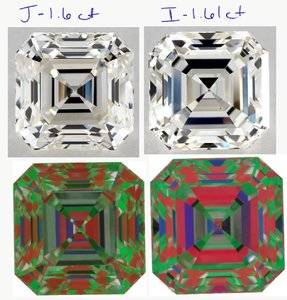 The I-1.61 appears brighter overall to me, and appears to have better light return than the J-1.6; but the J's smaller table is a bit more to my liking, though I'm not really sure how much my eyes would realistically discern that difference between the two. The I-1.61 also appears to have more crisp faceting under the table both in the still image and when moving (contrasty on & off), which - realistically - is how we typically see diamonds when worn - they're moving.
JA assured me the inclusion under the table on the I-1.61 ct is not visible without magnification/loupe, so I'm good with both diamonds' color & clarity.
Thoughts? Concerns with either? Which would you choose, and why? Or would you throw one/both in the garbage? Thanks in advance!