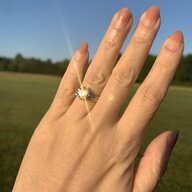 Joined

May 13, 2020
Messages

91
Hello everyone, I am new here. Recently I got fascinated by diamonds and spent a lot of time studying (I am very technical). My goal was to find a super ideal cut on my own without paying for the premium.
One month ago I made an order (my first round brilliant cut) from James Allen and also ordered an ideal scope and ASET scope from here. JA still have not delivered the ring yet yet, but I would like to hear your comments about the diamond.
It is F, VS1, 1.5ct. I order it because (1) its ideal scope picture looks great, very symmetric (only 0.02mm difference), H&A; (2) it has 54% table, 15.5% crown, and 55% star, I am expecting it to have very good fire; (3) the GIA reports look great, although the crown angle is a bit shallow, it is paired with a small table, high crown, and long star, should have very good light performance.
I am attaching the video
https://www.jamesallen.com/loose-di...f-color-vs1-clarity-excellent-cut-sku-8279937
, the idealscope image, the GIA report and HCA score. Could you provide any comment? I hope I did a good job. If there is anything wrong, I still have chance to return it.