Hi!
My husband and I's 10 year anniversary is this month. I am trying to decide if we are going to "upgrade" my bridal set or just buy an anniversary band. Either way I am not trading in my original set - as it is sentimental to us.
I keep going back and forth on what to do. While I like my original set, my style has changed throughout the years. All my other jewelry I wear now is rose gold, except my original set that is white gold.
I love the idea of a rose gold moissanite oval solitaire with half eternity band of some sorts. But, deep down I feel guilty that my original set will just be sitting in a drawer or that I am even considering wearing something else in the first place.
So, my other option is that I could just buy a fun rose gold band to go with my original ring and mix metals on both hands somehow to tie it in. But I will be honest that I find it difficult to figure out a band that will look good paired with my three row micro pave setting of my original ring.
Any advice? I know I am probably overthinking everything but my husband is no help either lol.
Would you "upgrade" to the solitaire moissanite ? or simply get a new band for my original ring? Any suggestions?
Thank you!!
My Original Engagement Ring: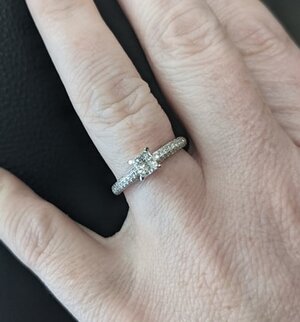 Inspiration from Etsy for what I am eyeing: