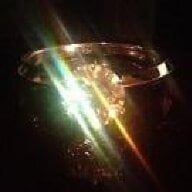 Joined

Apr 1, 2012
Messages

345
Hi Ladies!
I had a break during lunch hour today and ran over to Tiffany's to try on wedding bands with my new 2.9mm to 2.3mm Brian Gavin Tiffany ring! Took a few pics and thought I'd share for fun.
Please don't mind my ugly nail color (it was suppose to be a peach but looks like a pale gross puke yellow). The wedding bands were a bit smaller than my size fyi.
If we go with Tiffany's realistically I'm looking at the channel band. If we go with a shared prong, I'm going to feel really bad spending that $$$$ on the band since the wedding is so pricey... and we just bought a bedroom furniture set that I got on a 12 month no interest plan... so we'll likely try to find something similar elsewhere. IDJ seems to have good prices on similar bands on their website?