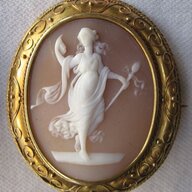 Joined

Apr 17, 2002
Messages

3,618
I bought three trapiche emeralds from an etsy seller. She told me she bought them at auction, and that they came from a jewelry store that was closing. The labels say they are natural and untreated, and the auctioneer said so too. The seller doesn't usually take returns, but I proposed keeping one of them, with the option of keeping or returning one or both of the other two, and she agreed. I would like to mount one of them in a ring. Please help me decide which to keep and which (if any) to return, and also how to set the one(s) I keep, to make the pattern as visible as possible.
One is 1.5ct, 8mm round, with a high, flattish dome. It's greenish gray and translucent, on the opaque side, with a very clear, centered, fixed six-ray pattern. It's the lightest looking of the three. The pattern is clearly visible in most light.
One is .80ct, about 6mm roundish, with a lower dome. It's a much intenser green than the other two--more what I think of as "emerald green." One of the six segments is black. It's reasonably transparent, but it looks very dark in most light, which makes it hard to see the pattern.
The last one is 2ct, oval, about 7x9mm, with a tallish, flattish dome. This one is the most transparent. It has a clear, centered spoke pattern. It's the lightest in color. In some lights it looks very dark, and in some it looks pretty light. The color is grayish and not very saturated. The transparency gives it a light-and-dark pattern when you rotate it, depending on which way the light is coming from.
I took a bunch of pictures in different light:
Living-room lamp with LED bulbs: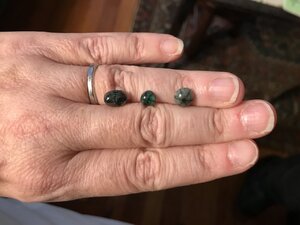 Halogen spotlights: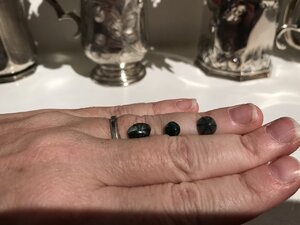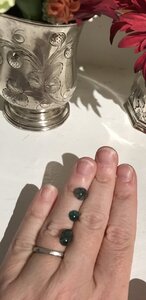 Fading afternoon daylight: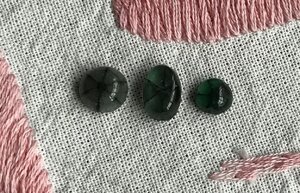 The backs: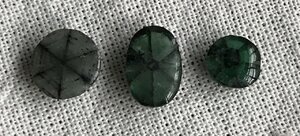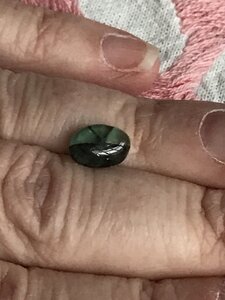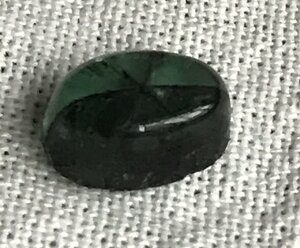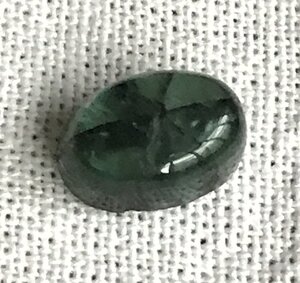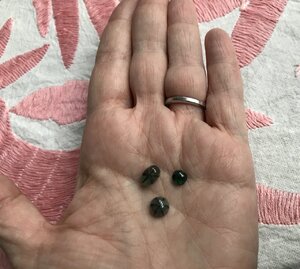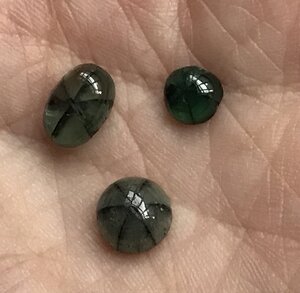 Backlit, sitting on a glass box lid on top of my tablet: