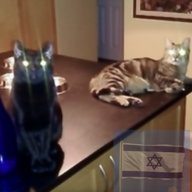 Joined

Jun 8, 2008
Messages

42,021
It is with great sadness I post this but I just don't want to leave any stone unturned because these wonderful cats deserve a chance to be in another loving home during their senior years.
My friend is dying from brain cancer and is going to hospice soon. I don't know exactly when but it will be sooner vs later. She has 3 sweet cats with tons of personality who she raised from birth. They were all part of the same litter and these cats have never known anything but love and comfort and safety. They are truly wonderful cats who are about 12 years old now.
My friend is not in any shape to find homes for them and so far I have not been successful either. I have contacted all the animal rescue groups I know and have networked and contacted all the people I can and have asked them to reach out to the people they know too. But so far no luck and we are down to the wire.
I know it is a long shot coming here but like I said it is worth the chance because you never know who just might want to open their homes and their hearts to one or more of these sweet fur babies.
Presenting Zeke, Theo and Yoshi. They come when called and only want love and affection and are super easy going and very social. They are completely healthy with no issues. They don't run and hide when strangers come to visit and they adore attention and love and will reward you with lots of purrs and cuddles.
They are located in Brooklyn NY but I am willing to travel with them via car to take them to a new safe loving home.
Is there anyone who can open their hearts and homes to these deserving and wonderful loving cats?