Short version-- Jeweler said my H was more a J because its Top Light Brown. Thoughts? Links below.
Hi PriceScope community,
With your help I selected a stone which at first I thought I was happy with. However, its hard for an untrained eye to assess diamond specifics and I learned this when I went to my local jeweler, who I planned on setting my ring with.
First, I want to say that the jeweler is great and I really do like them. While picking settings, I showed them my diamond and they asked the price I paid. They told me they wouldn't be able to get close so I should stick with my selection. However, they did offer to compare it to another H stone in store.
Once it came out they compared it to my H and said that they could notice the difference from 8ft away (another salesperson standing off to the side). They said that mine was "top light brown" and that often online sellers will target these stones as consumers have no way of knowing until they look at it in person. So while my diamond looks good on paper, this was the reason for the price and it was more a J than an H.
Here is the other I diamond that this was compared to at the store. I'm sorry for the quality, these are the only images I have.
The Diamond Compare
Mine on left(I believe)
Not sure what lighting to use but here are some videos. I can take more if it would help:
(I added some bonus videos to not completely trash the stone
)
I appreciate them taking them taking the time to help me pick my stone but it would hurt to return this after so much research. However, I don't want to fumble this at the goal line. Questions:
Would you classify this is top light brown and do you have any thoughts on the color rating?
Is this comparable to a yellow J and could I save money by just dropping my color 2 grades?
Will this be an issue when set in white gold/platinum? My girlfriend has a brown skin tone, will this be more or less apparent?
This is going to be set next to pave diamonds on the band, will this be a big problem? I won't be able to return this once set.
Steps to take next? I've obsessed over this but don't really know how to confirm this or how it'll look when set.
Any observations or answers to one or more of my questions is very much appreciated.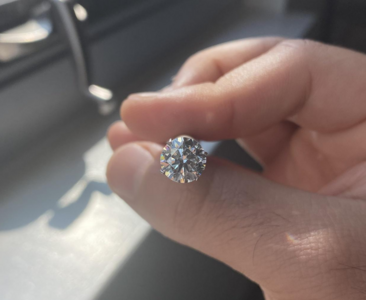 Last edited: