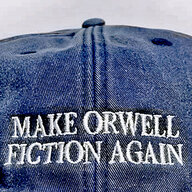 Joined

Apr 30, 2005
Messages

30,145
Tomorrow Julian Assange, Editor-in-Chief of Wikileaks, will release documents reported to be very damaging to Clinton's campaign.
http://www.foxnews.com/politics/2016/10/03/will-wikileaks-assange-delay-october-surprise-announcement.html
I'm all for Trump not winning ... but I totally support Wikileaks leaking the filth about
ALL
the rich and powerful that they want to keep secret.
Doing bad things is bad, whether it's a rich and powerful person or a rich and powerful country, including my own.
I love my country, but I also love all humans on the planet.
I prefer the bumper sticker, "God Bless Everyone" to "God Bless America".
That make me patriotic, in the
best
way.
IMO Assange is a hero.
If Trump gets elected because of tomorrow's revelations I'll be bummed, but I'll
still
consider Assange a hero.
Perhaps he'll really make a difference and the rich and powerful individuals and countries will clean up their acts.
But, let's not hold our breath.