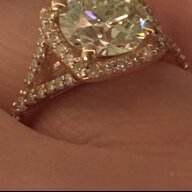 Joined

Sep 1, 2016
Messages

56
Thanks to this wonderful site I have seriously fallen for the older and warmer colored diamonds. I've always thought of lower colored diamonds as flawed, dirty or occluded. So many thanks to all those who have taken the time to post the stories, comments, and gorgeous pics that have shown me otherwise!
That said: Hubby and I are upgrading my e-ring stone, and there's one on Grace's website I can't get enough of. She posts beautiful pics and videos in different lighting, so I have a fairly clear picture (at least in my mind) of what I'm getting. Spoke with her on the phone, described the desired setting, and she encouraged me to go in the direction of yellow gold (which I adore) for this very warm stone.
Again, thanks to another PSer, I found my dream setting at
Brian Gavin
, and have already contacted them about the logistics of setting this stone.
So my question is this: should I have her send the stone directly to me so I can actually lay eyes on it, knowing I'll have a window in which to return it if it's not what I want, or should I go ahead and have the stone set sight unseen, which means forfeiting the return period?
Has anyone purchased a stone and had it set sight unseen??
Thanks for any input...