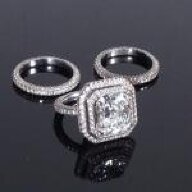 Joined

Nov 2, 2015
Messages

13
My diamond currently has an AGS Cert that was done in Oct. 2005. It was not graded on "cut" because (from what I am told) cut wasn't considered as important "back then". They began adding cut grading in 2006 and therefore including it on the reports.
I'd like to re-certify my diamond, so as to have this information when I go to sell it. Wouldn't most buyers want this info?? I'd like the info as well....
I have POURED through the topics and read hundreds of posts and yet here I am, still unclear.
It seems like most of the TRADE people here agree that the two labs are comparable. The only info I found with regard to discrepancies is 1) the human aspect and 2) AGS will grade up and GIA will grade down if cut or color is in the middle.
It also seems the PUBLIC perception (as many websites/bloggers/jewelers have helped drive home this opinion) is that GIA is superior (stricter) and countless times I see consumers posting requests for GIA ONLY certified diamonds. After reading the many posts on this topic, I tend to think they are both equally great labs. BUT, since I think I need a new cert anyway, wouldn't it be wiser to get it done by GIA? It could actually get downgraded by the "halfway between" grading policies I have read about here.... I have been told by 3 local jewelers that AGS is always a grade higher than it should be on everything (so frustrating hearing and reading this repeatedly) and they hadn't even inspected my diamond. Posters here don't seem to agree as some have had that experience.
Also, grading at GIA will be $471 but brinks will charge me $275 each way

Fedex, UPS, & UPS will not cover the amount of insurance I need and my personal insurance will NOT cover a loose stone....
Ideas here? I used to live 10 minutes from GIA in Cali (now in Dallas) and have been through the 2 week process. I'm hoping my only options AREN'T to fly there twice or use Brinks
An AGS cert would have to be done by a jeweler as they only deal with the TRADE. Not sure of the cost yet... especially given that I have a previous cert from them already.
PLEASE, anyone with an opinion, I would love to hear your thoughts, even if some oppose others....
Thanks in advance ya'll!