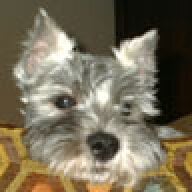 Joined

Sep 10, 2004
Messages

1,997
I wanted to get yalls thoughts on this if you don't mind… I hope I am explaining this correctly!

My brother is getting married in September. I am decently close to his FI (Melissa). She has been bouncing a lot of ideas off on me, asking me how DH and I did things, etc. Over lunch a couple of weeks ago, she mentioned that my other brothers wife (SIL), asked if she was going to be a BM (classy huh?). So, Melissa started talking about how she wanted all of us (brothers, sisters, friends, etc) to be in the wedding party, but honestly wanted to keep it small. I mentioned that there were always other "jobs" to give people like reading, passing out programs, etc and that I would be more than happy to do something like that, especially since I will be 8 months pregnant. I understood how hard it was to please everyone and if she wanted small, she should have small!

She has mentioned several times since about wanting small and my brother wanting bigger. Yesterday, she said something about asking my SIL (the one who already asked) to be a BM if I really was okay with not being one and that would keep it small. I said I would be happy to be a BM, but know she doesn't want a large party and that I was more than happy to do something else. It is honestly how I feel about it… I am happy doing whatever they would like for me to do! BM or not, I will be a part of their day even if I just sit and watch! I wasn't a BM for my other brothers wedding and never thought twice about it.

Today, she has officially asked me to be a BM. She said as the little sister, I should at least be asked, and if I didn't want to, she understood, and that her MOH would be pregnant too if I felt uncomfortable about that. I'm fine with being pregnant; I suppose I was using it as a graceful bow-out for her. I don't want to be asked because I am the little sister and get to choose… I want to be asked because she/they want me up there. Or I want to hand out programs because that is how they want to make me a part of their day. I called my mom to get her thoughts and she suggested calling my brother and see what his take on it was. I have tried, but he hasn't called me back yet. I am genuinely happy doing whatever. I think I just feel awkward because I know Melissa does not want a big bridal party… had I not been privy to this info, I would have happily said yes already!

What do I do?!?!