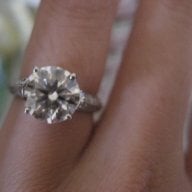 Joined

Sep 16, 2006
Messages

1,045
I'm debating whether or not to use Mr., Mrs., Ms. etc on our escort cards. I am leaning toward no titles at all, just the guest's first and last name. However, I have a few older relatives that are MD's and I really fear they might be offended if I didn't use the title.
What did you do and why?
Could I use titles only for the MDs and not for anyone else?
TIA! I need to get my escort cards done yesterday. Wedding in 5 days...