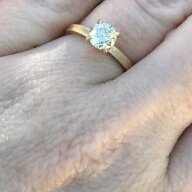 Joined

Dec 29, 2014
Messages

185
Hi!

I'm a lurker who has finally come out of the shadows. I've gained a tremendous amount of knowledge from these boards, but this is the first time I haven't been able to find the answer to my question. If it's been talked about before I apologize.
I'm currently eyeballing a couple of things in LT and the Bistro in my budget, and was hoping to get some buying tips. I have bought two preloved rings so far, but both items were from PS members so I felt pretty good about my purchase, and the person selling them. As of yet, I cannot confirm that the owner of the items that I'm looking at is a member of PS or any jewelry form. They aren't huge purchases (both items are between $500-$700), but money is tight right now and I want to know that I'm getting what they are advertising. One is an eternity ring from a popular PS ended with no markings (I guess due to the cleaning holes) and the other is a small diamond with an AGS report.
Can you give me any suggestions for what I should be asking and what I should be looking out for feeling out the seller? Thanks so much for sharing you knowledge with me!