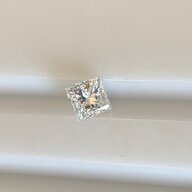 Joined

Nov 8, 2015
Messages

371
So, I got a new ring from my trusted jeweler of 20 yrs, just a sweet anniversary present for a special day we usually celebrate. It was sized for me. When I put it on, I noticed a small diamond on the end was badly cracked, and the prong had been retouched with a glob of solder really sloppily. We returned it to the jeweler within the hour. I had worn it for all of five minutes.
He agreed to replace the stone.
Well, I got it back this week and the diamond is smaller, it's not G/H color, more like K and has a very dark inclusion. It's just awful!!!!!
I hate to go back there for something so trivial, but it's really bothering me. Why would they cheapskate out on me like this!!! I told him take your time, there's no rush, get a nice match etc. ARGGH!
I have a good relationship with him, which I don't want to sour with this picky little issue.
What to do?