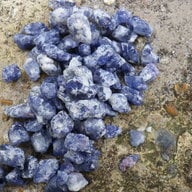 Joined

Sep 7, 2018
Messages

291
With the ever-growing popularity of this superb gemstone, it's high time we had a dedicated book on the marvel that is spinel. I know Vladyslav Yavorskyy published 'Terra Spinel' in collaboration with Richard Hughes, but it's not really a gemmological study, like 'Ruby & Sapphire' was. Good luck trying to find a copy of 'Terra Spinel', too and if they do appear, the prices are astronomical.

So, I'm envisioning a big, heavy hardback book with lots of colour photographs and illustrations like 'Terra Spinel', but with detailed mineralogical and gemmological information too e.g. history, types of deposits, crystal forms, colour range, spectrometry, trace elements, inclusions, treatments, use in jewellery, and detailed descriptions of the places it is found. Maybe Richard Hughes could make it a future project? The demand is there, I'm sure, and maybe such a book would raise the profile of spinel further as a high-end gem and make more people take it seriously. Spinel, at it's best, outdoes ruby and blue sapphire IMHO.

I know I'd buy this book in a heartbeat! Does anyone else agree?