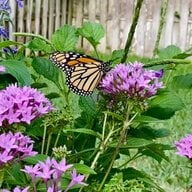 Joined

Oct 13, 2018
Messages

439
Hi all, I've posted previously about resetting my low-set Tiffany style solitaire to a little higher. The new ring didn't turn out as expected and I would greatly appreciate some help so I can hopefully get it right..
I asked for medium set or whatever setting height was in a couple photos I sent, along with some other detailed wish list items. The process wasn't quick or easy, I think there were 5 or 6 cads, and almost every time I had to ask for the stone to be higher - twice it was the same height as my previous ring and once it was lower. The final cad finally seemed right to me.
I received the new ring and it still seems to be set low? The final cad showed it would be 7.63mm high but I instantly noticed how low it appeared once I put it on. I'm getting a measurement of 6.85 which is lower than my previous ring, if I've measured correctly. The prongs aren't cupping the stone like before but on my finger it still looks quite low.
(Otherwise I *very* much like the look of the ring, though it's also missing the taper I requested multiple times, so I think that's contributing to it looking a tiny bit wider than I expected. However…If it had arrived with the higher setting I probably wouldn't fuss about the width or lack of taper. I am requesting that again though. Assuming I will be able to get a redo.)
I really want to get this right and not have a new low-set ring, since that defeats the whole purpose of having a new ring made.
PLEASE help me determine what precisely needs to change to get a higher setting, and have it still turn out looking fantastic? I'm not great at reading cads. Do I request a different size of donut width, or is it only a matter of changing the angle of the prongs, or build the donut up higher? If it had been set at 7.63mm high would that have been enough to make a difference, or do I need to request even higher?
Thank you!
Previous low set ring vs new ring: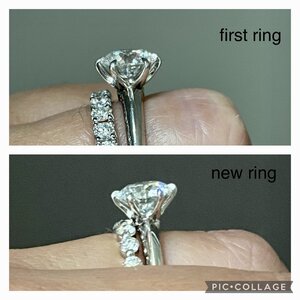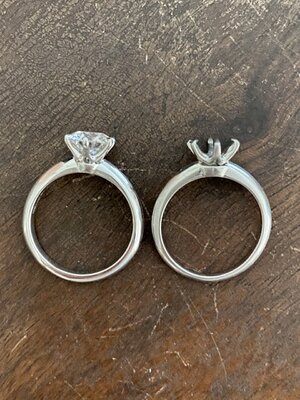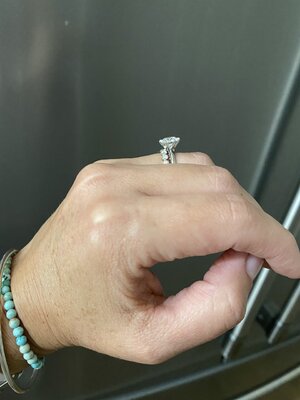 Final cad above
These Tiffany rings below are a similar size to my stone and a couple of the ones I sent in for the design inspiration - first one showing a desired setting height, and second pic on the ring sizer shows the taper I love (from widest at the head)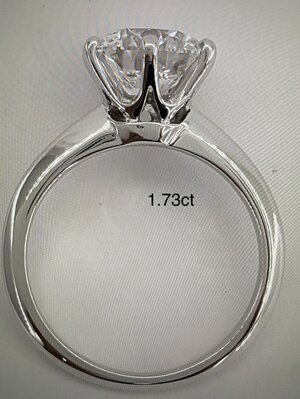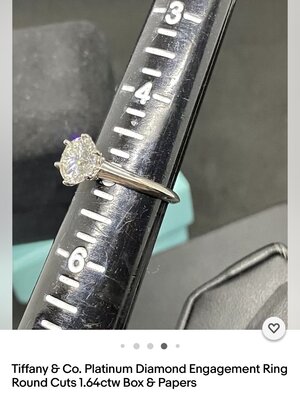 My calipers showing space above the stone, where the 7.63mm height would be