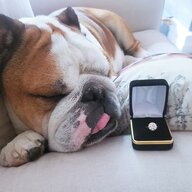 Joined

Feb 19, 2004
Messages

3,194
Thought I'd share some pics of how Tiffany Rose Gold *may* age for those considering it.
I have a few rose gold Tiffany pendants that have changed color over the years.
For whatever reason, the RG faded into yellow gold (all purchased directly from Tiffany's so I know they're authentic).
Top pic is my newest piece, the tag pendant on the right, along with my oldest piece purchased 10 or so years ago; the mini emblem lock on the left.
You can clearly see the difference in color.
The bottom pic is of my rg key pendant on the left (4 years old) and my new tag pendant. The difference isn't as obvious, but you can still see it.
I have two other Tiffany RG pendants and they're both a various shades of pinkish yellow.
I'm sure my body chemistry plays a role in how the color fades, and I know I can get my pieces polished back to their original color. This also won't deter me from buying more RG pieces in the future.
Still, I think it's interesting and others should know what can happen.
I also have a
Brian Gavin
DBTY 18KT RG diamond pendant that's still new. Wondering if it's also going to yellow.
Curious, anyone else have a similar experience with their RG?