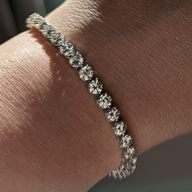 Joined

Apr 23, 2019
Messages

224
Hello Everyone!

I need your input on possibly purchasing a Tiffany & Co. Jean Schlumberger 16 stone ring.

I have admired this ring ever since it debuted and was advertised amongst Tiffany's " Celebration Rings"

I'm just wondering if it's actually comfortable to wear.....
I've heard some mention on PS that regular eternity rings can be uncomfortable, and this particular ring is a much bulkier eternity style.
I read one reivew of it claiming that it was like wearing a ring of thorns- ouchhh and no thank you!

It is a very beautiful ring though, so I'm wondering if anyone owns one or has in the past and what your experience/thoughts might be.

Thanks very much!